Contact Us
LGBT History Month is a project of Equality Forum. For information about the LGBT History Month Web site or videos, or for advance access to bios and high-res photos:
Malcolm Lazin
Executive Director
mlazin@equalityforum.com
215-732-3378, ext. 111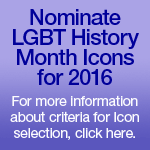 2015 Icons
11.
Emery Hetrick & Damien Martin
16.
Edna St. Vincent Millay
28.
William "Big Bill" Tilden II